Back
Strategic Program Cancer
Strategic Program Cancer
The Strategic Program Cancer aims to be a world-leading cross-disciplinary Cancer platform for research and innovation that focusses on improving the outcome of those at risk or affected with cancer.
Our vision is to cover fundamental, translational, clinical and real world data science that develops and delivers breakthrough innovations in prevention, early diagnosis, individualized treatment and supportive care.
Through innovation and talent management, we aim to stimulate the structural collaboration between researchers and clinicians, with patients and with regional partners.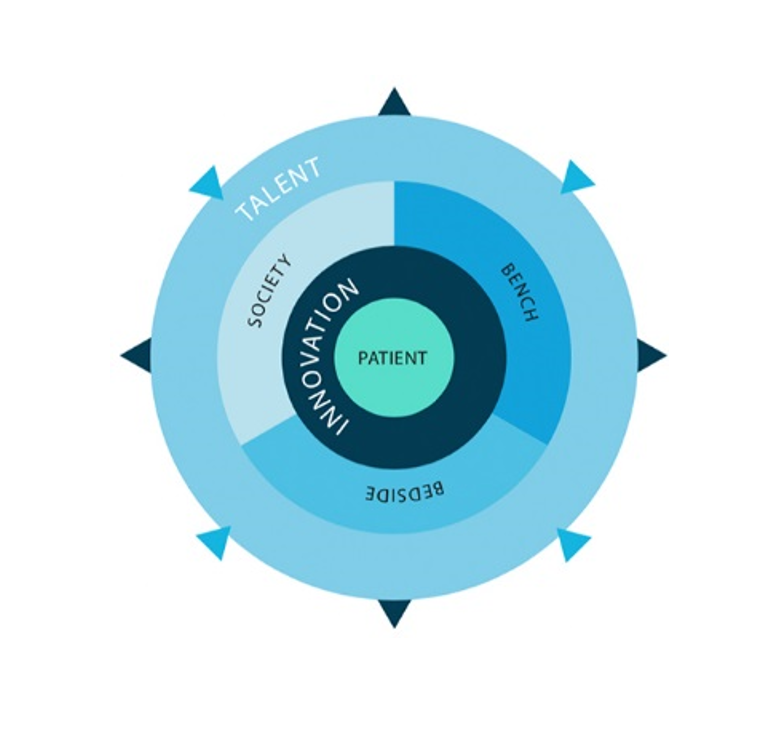 The Strategic Program Cancer
uitklapper, klik om te openen
The Strategic Program Cancer aims to be a world-leading cross-disciplinary cancer platform for research and innovation that focusses on improving the outcome of those at risk or affected with cancer.
Our ambitions are:
Encourage multidisciplinary collaborations and foster talent.
Translate unique fundamental knowledge into clinical applications with societal impact (sustainable, affordable, accessible).
Enable early diagnosis to prevent or mitigate disease and postpone hospital care.
Designing precise and personalized interventions based on molecular profiling, immune profiling and imaging.
Using real life data, advanced disease models and imaging to predict clinical outcome of interventions.
Develop interventions that ensure high quality of life during survivorship and palliative care.
Research themes
uitklapper, klik om te openen
Our research themes connect research and care. The multidisciplinary interaction between fundamental, translational and clinical scientists enhances our strong position in molecular, cellular and imaging science. This also aligns with our unique population and patient cohorts including biobank data, and expertise in building and utilizing these data for individualized risk stratification and intervention.
Annual overviews
uitklapper, klik om te openen
Our yearly overviews of 2019 and 2020 were made to illustrate some of the many progresses achieved in the field of cancer research in the UMC Utrecht. Every step ahead is achieved thanks to our inspiring researchers together with their (national and international) research partners, PhD students and stakeholders. Moreover, we are very thankful for the involvement and expertise of our patient sounding board in establishing our research mission.
We are very much looking forward to further stimulating, excellent cancer research in the coming years, connecting and facilitating this creating an environment in which we work together and share our science with the world.
Reaching out
uitklapper, klik om te openen
Yearly, we organize various activities to connect with society, such as Open Lectures for the lay public, four guided lab tour for volunteers of the Dutch Cancer Foundation and a yearly visit of our professors to elementary schools. Besides, on a regular base, the research strategy is discussed with the Patient Sounding Board of our Program as well as with various Patient Advocacy Groups.
You are kindly invited to participate in our public meetings. Please mail our office for more information.
Note: due to COVID-19 most of our live societal outreach have been postponed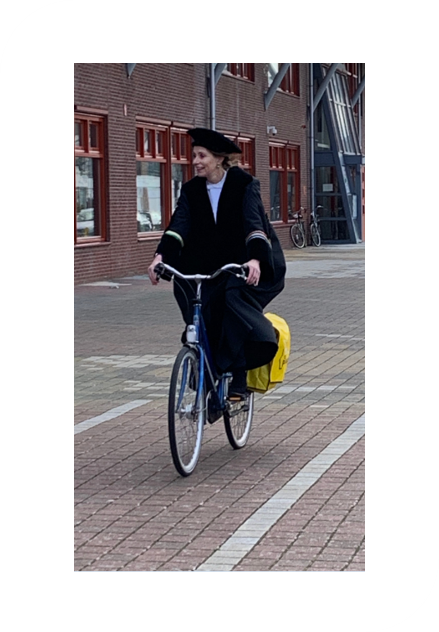 Meet the Professor
Slimme gasten
Interview for the Utrecht Student Journal
Patient care
uitklapper, klik om te openen
Structural cross-links between the scientific themes and the care-path of our patients are in that regard crucial. Thirteen multi-disciplinary tumor working groups have been installed, covering all major tumor-types. Associated professionals include clinical- and translational scientists, securing the delivery of the most innovative care to our patients within the UMC Utrecht as well as in our regional partner hospitals of Oncomid.
Education & Career
uitklapper, klik om te openen
Lifelong Learning
To foster our talents we offer education and career development activities at various levels of career track.
The 4 main cancer-oriented PhD programs of the Graduate School of Life Sciences:
OncoCareer Board
Enthusiastic early-career scientists from different departments within the Strategic Program Cancer of the UMC Utrecht provide a supportive network for other early-career scientists (assistant professors, post docs, MD-PhDs).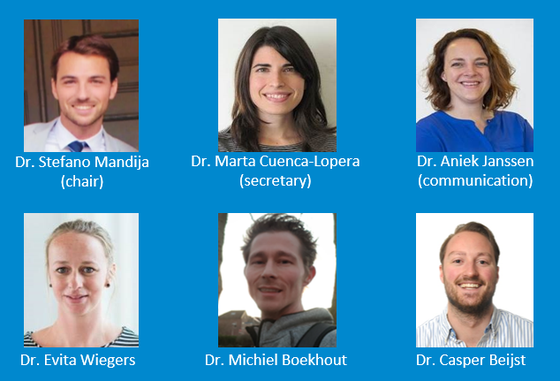 Vacancies
Calendar of events
uitklapper, klik om te openen

PhD defenses 2021
October 28th 12:15 J. E. Vasmel "Neoadjuvant single-dose irradiation in low-risk breast cancer"
October 28th 14:15 A.E. Hiensch "Stepping stones to implement exercise as integral part of cancer care"
November 4th 12:15 T.F.W. Soeterik "Optimising Prostate Cancer Staging and Active Surveillance"
November 10th 14:15 D.A. Martínez Chávez "Cyclin-dependent kinase inhibitors in cancer: bioanalysis and pharmacokinetics"
November 11th 16:15 M.F.M. van den Broek "Case-finding in Multiple Endocrine Neoplasia clues for a timely diagnosis"
November 23rd 14:15 S.I. Bril "Skeletal muscle mass in head and neck cancer patients - Radiological assessment and association with clinical outcome"
November 29th 10:15 J. Chen "Omega-3 Fatty Acids DHA and EPA for Overcoming Drug Resistance in Multiple Myeloma: Investigations into The Mechanism of Action, Activities and Rational Use"
See here a full list of PhD defenses of 2021
Associate Professor lectures 2021
17:00 | Dr. Jeroen Hagendoorn "Levertumoren – behandelen met méér effect en minder impact" Watch the lecture here
16:30 | Dr. Alex Poot: "Theranostics ontwikkeling voor de diagnose en behandeling van (kinder)kanker" Watch the lecture here
17:30 | Dr. Jochem van der Voort van Zyp: "MRI-gestuurde bestraling van het prostaatcarcinoom" Watch the lecture here
16:00 | Dr. Martijn Intven "MRI-geleide radiotherapie bij maag-darm-lever tumoren: van neoadjuvant naar ablatief" Watch the lecture here
17:00 | Dr. Bart de Keizer "Nieuwe scantechnieken voor beeldgestuurde interventies" Watch the lecture here
15:00 | Alessandro Sbrizzi "Modelling and Optimization of MRI processes" Watch the lecture here
16:00 | Zsolt Sebestyén "Preklinische modellen voor cellulaire immunotherapieën: "from bench to bedside" en weer terug" Watch the lecture here
15:00 | Peter de Keizer
16:00 | Joost Verhoeff
15:00 | Martijn Gloerich
16:00 | Lieve Tytgat (PMC)
15:00 | Martin Fast
16:00 | Patrick Kemmeren (PMC)
Inaugural lectures

Think Utrecht congress
uitklapper, klik om te openen
On the 16th of December, we will organize a congress about innovation and implementation of innovation in oncological clinical practice.
Join the Think Utrecht Congress
We have prepared a few short videos in which our speakers share their opinion about oncological innovative care ('oncopinie', only in Dutch). See below:
Organization
uitklapper, klik om te openen
The people behind this program
Previous members of the board: Prof. dr. Boudewijn Burgering (2018-2019), Prof. dr. Onno Kranenburg (2018-2020), Prof. dr. Carla van Gils (2018-2021).
Thank you for your review!
Has this information helped you?