Back
Focus areas of Circulatory Health
Focus areas of Circulatory Health

Cardiovascular disease is one of the main causes of death in both men and women and, with the current aging population and rise in cardiovascular risk factors (obesity, diabetes), this is not likely to change without a collective effort. To address this challenge, cardiovascular investigators, clinicians and educators from UMC Utrecht have assembled into one program: Circulatory Health. The mission of our program is to reduce the burden of cardiovascular disease worldwide.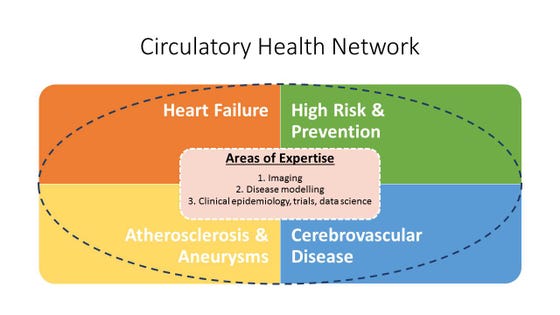 Heart failure
uitklapper, klik om te openen
The main research interest of the focus area Heart failure covers (1) early detection of new onset or worsening heart failure and its complications (such as arrhythmias) in primary, secondary and tertiary care; (2) the importance of co-morbidity in the development, recognition, prognosis and treatment of heart failure; and (3) innovative ways to improve prognosis in all four stages of heart failure such as through e-health, devices, advanced imaging techniques and gene and cell therapy. Basic research focuses on the elucidation of underlying pathways in heart failure, with special emphasis on genetic susceptibility to develop heart failure, the discovery of novel biomarkers and electrical-mechanical remodelling, with the aim to improve prevention of new onset or worsening heart failure and to develop novel therapeutic (and monitoring) targets which will be validated in population-based studies and primary and secondary care patients.
Cerebrovascular disease
uitklapper, klik om te openen
The main research interest of the focus area Cerebrovascular disease concerns the diagnosis, treatment, and prognosis of patients with acute ischemic stroke, carotid artery disease, intracranial vasculopathy, genetics of stroke, and TIA. The focus lies on (1) intervention and imaging in ischemic stroke; (2) secondary prevention focusing on carotid occlusion and stenosis and vertebral artery stenosis, both with respect to clinical epidemiology and medical treatment; (3) vascular cognitive impairment and neuropsychology, in which the association with other types of dementia and with diabetes is investigated with respect to genetics and imaging techniques; and (4) the association of ischemic stroke and intracerebral vasculopathy and rare neurovascular diseases such as Moya-Moya.
Artherosclerosis/ Aneurysms
uitklapper, klik om te openen
The main research interest of the focus area Artherosclerosis/ Aneurysms focuses on abdominal, thoracic, extracranial, and cerebral vessel dilatations/ruptures. Research focuses on (1) development and improvement of innovative (minimal-invasive) endovascular treatment; (2) development of new 3D visualization techniques that facilitate endovascular interventions with extremely reduced X-ray doses, in close collaboration with a commercial company; (3) discovery of risk factors for aneurysm rupture; and (4) stentgraft behaviour and improvement for repair of thoracic aortic diseases (aneurysma and dissections)(performed in close collaboration with other international centres of excellence in Italy (Milano, Pavia) and the USA (Boston, Michigan)).
High risk & Prevention
uitklapper, klik om te openen
"High risk" denotes research in patients that are at a particularly high risk for developing a first clinical or subsequent cardiovascular event. Many patients in the focus areas of the program have such elevated risk (in particular patients with hypertension, diabetes, atherosclerosis), and require optimal selection of primary or secondary preventive interventions. They are subject of targeted research.
Certain groups stand out with regard to identifiable risk factors and are at particular interest for the research program. The patient groups hypertension, type 2 diabetes and patients with female-specific risk factors cover an area of closely related risk factors and diseases leading to increased cardiovascular risk. The main group hypertension has a specific focus on complicated hypertension. Diabetes has a specific focus on type 2 diabetes and cardiovascular diseases. The group of patients with female-specific risk factors has a focus on HELLP, gestational diabetes, PCOS and POF. For etiologic, diagnostic, prognostic and therapeutic research regarding the relations between hypertension/diabetes mellitus/female-specific risk factors and vascular disease, three cross-connections can be identified: insulin resistance (obesity, metabolic syndrome, PCOS, HIV), sympathetic activity (new interventions, chronic kidney disease) and vascular stiffness/media calcification (vascular imaging, vascular ageing, pseudoxanthoma elasticum). These cross-links between hypertension and diabetes mellitus work synergistically and create a unique and integrated translational research network with a strong focus on patient outcomes and novel therapies.
Specific interest and expertise is developed over the last few years in prediction of cardiovascular risk in various high-risk groups, including patients with diabetes, patients with clinical manifest vascular disease, apparently healthy people and elderly subjects/patients. To further personalize cardiovascular prevention it is important to know an individual's cardiovascular risk.

Global Cardiovascular Health
uitklapper, klik om te openen
Cardiovascular diseases are the leading cause of morbidity and mortality worldwide with low- and middle income countries being disproportionally affected. Our work aims to study cardiovascular risk factors and health outcomes internationally and develop, implement and scale-up cost-efficient approaches for primary and secondary prevention of cardiovascular disease globally to contribute towards equity in health and well-being for all. For further information please see www.globalhealth.eu
Thank you for your review!
Has this information helped you?