Back
National Growth Fund boost for UMC Utrecht

National Growth Fund boost for UMC Utrecht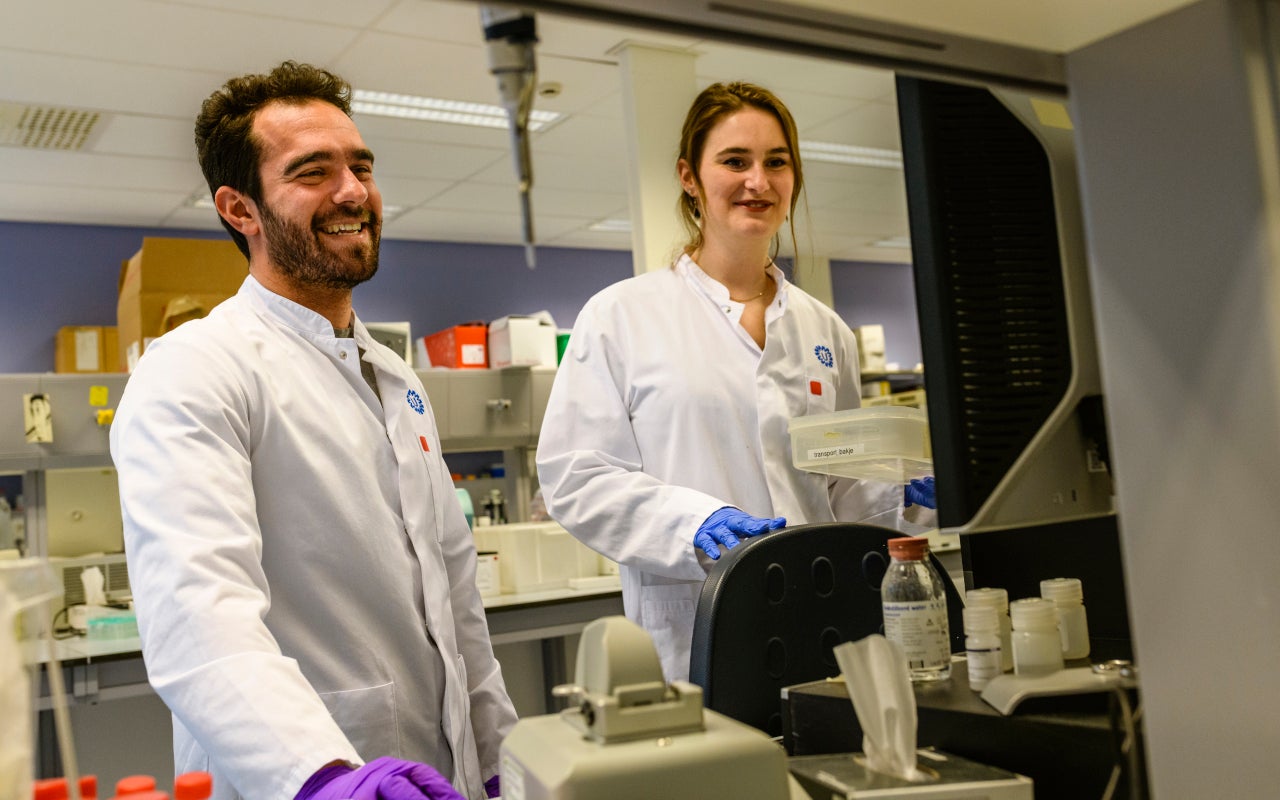 The National Growth Fund reserves EUR 125 million for a new Center for Animal-Free Biomedical Translation to accelerate the transition to animal-free research over the next ten years. This could lead to safer, more effective and better treatments with less animal suffering. UMC Utrecht is also involved in the Delta Plan Valorization and the 'DUTCH' project, two other proposals on which the National Growth Fund committee has advised positively.
The Center for Animal-Free Biomedical Translation (CPBT) is planning to accelerate the transition to animal-free biomedical innovations. This should offer economic and social benefits: improved medicines and fewer animal tests.
Poor predictor and expensive development
Often, the results obtained from animal experiments can only be translated to humans to a limited extent, if at all. In nine out of ten biomedical development pathways, it was only during studies with patients that animal experiments failed to show a therapeutic effect in humans. This increases the cost of developing new medicines by billions and causes unnecessary animal suffering. Every year, 450,000 animal tests are conducted in the Netherlands alone. This number has not decreased over the last ten years.
New center for revolutionary change
Together with a large number of national and international parties, the CPBT is planning to create a center for the development and dissemination of animal-free innovations and expertise. The CPBT will focus on transition trajectories, for example dealing with ALS and Cystic Fibrosis. The CPBT is planning to implement the developed methods, tools, and expertise together with researchers and industry partners. The new center wants to offer education, training, advice, and support to enhance the acceptance and use of animal-free biomedical innovations. The CPBT will become an integrated program that accelerates the transition to animal-free and will strengthen the Netherlands' earning capacity.
Social and economic impact
Prof. Wouter Dhert, part of the strategic theme Life Sciences at Utrecht University and UMC Utrecht, and one of the initiators of the CPBT, says: "We are very proud that the Growth Fund reserves money for this wonderful initiative and we will adjust our plans in the coming period, so that we can really get started. If we show that economic added value is linked to a better translation of biomedical innovation for patients or consumers, resulting in fewer laboratory animals, the Netherlands will secure a unique leading position globally."

Prof. Jeroen Pasterkamp, one of the initiators from UMC Utrecht, emphasizes that the development of transition knowledge will not only contribute to a tremendous acceleration of the development of efficient drugs for conditions such as ALS and cystic fibrosis in the lab: "It will also ensure that these drugs become available to patients faster."
Multi- and interdisciplinary education
Within this project, UMC Utrecht also contributes to new multi- and interdisciplinary education focused on innovations in non-animal research. For this purpose, the current student laboratory 'Bachelor Research Hub' will be expanded, among other things, so that students can participate in the development of new in vitro disease models for faster translation of new drugs to patients.

UMC Utrecht is now a partner in all of the approved and selected projects within the Health and Care theme in the three NGF rounds. In addition to DUTCH and CPBT in this round, these include Health-RI and RegMedXB in the first round and Biotech Booster, Oncode-PACT and PharmaNL in the second round. UMC Utrecht is also a consortium partner in NXTGEN HIGHTECH.
UMC Utrecht is also a partner in the following projects for which the National Growth Fund provides or reserves funds:

Digital United Training Concepts for Healthcare (DUTCH)
DUTCH is focused on future-proof training and development of healthcare professionals. The project focuses on the transition from learning on the job to learning off the job using simulation techniques. The goal is to offer 50% of practical education in healthcare training through physical and/or virtual means. DUTCH focuses specifically on the disciplines of anesthesia assistant, surgery assistant and radiology lab technician. The DUTCH project has been awarded 132M euros, of which 84 is still conditional. For UMC Utrecht, this means close to 4M euro in funding with nearly 1M euro in own contribution.

Valorization Delta Plan
This is a project coordinated by UNL that aims to accelerate the transition from research to application of new knowledge, with the goal of increasing the societal impact of Dutch knowledge. It includes a culture change, support for researchers in valorization activities and the development of a system for knowledge use in education and research.
About the Center for Animal-Free Biomedical Translation
The Center for Animal-Free Biomedical Translation (CPBT) is an initiative of Utrecht University, UMC Utrecht, Hogeschool Utrecht, and the National Institute for Public Health and the Environment (RIVM). The initiative has a large number of public and private partners. The growth fund proposal was submitted by the Ministry of Agriculture, Nature, and Food Quality.