Back
It is possible: pregnancy after a kidney transplant

It is possible: pregnancy after a kidney transplant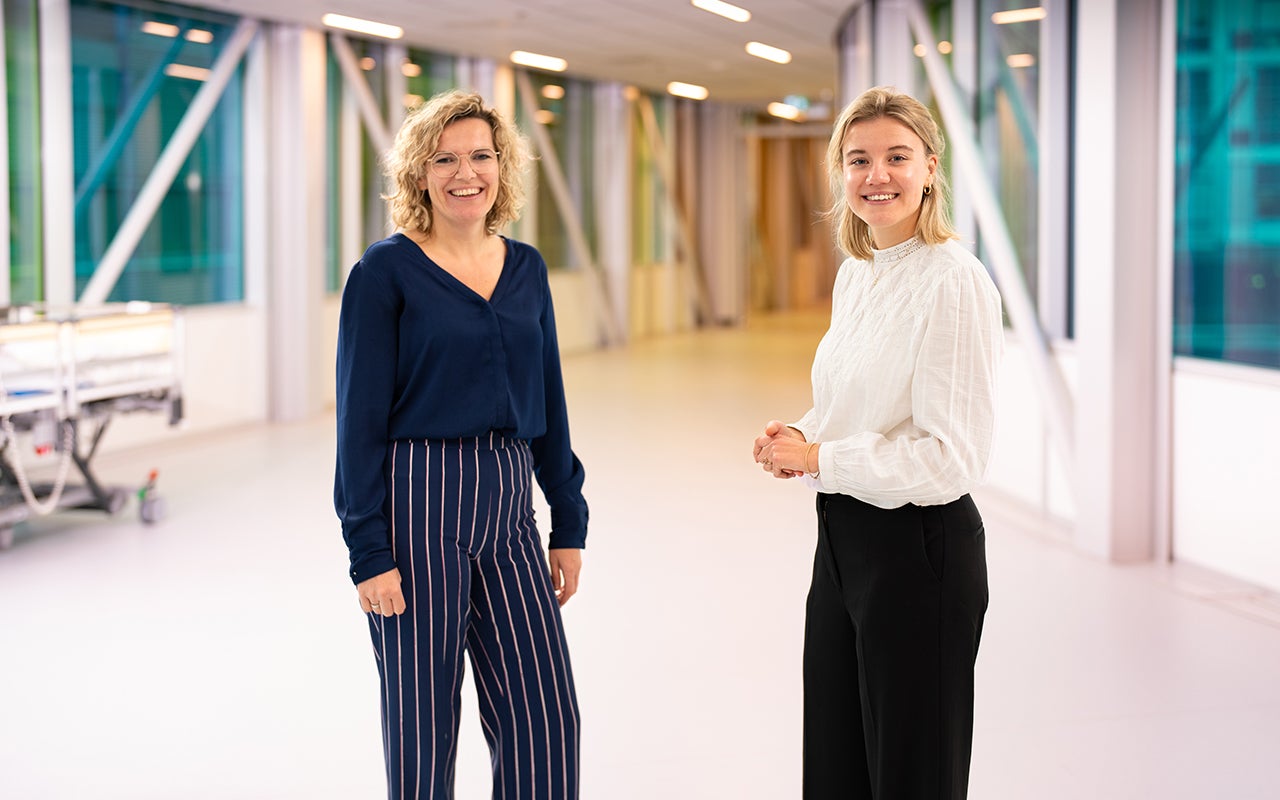 In women with a transplanted kidney, the effects of pregnancy are generally more favourable than is commonly thought. Kidney function hardly deteriorates because of the temporary extra burden on the kidney, which is good news. There is also no increased risk of donor organ rejection.
These reassuring findings are published by physician-researcher Margriet Gosselink (UMC Utrecht) and nurse practitioner Dr Marleen van Buren (Erasmus MC) in the scientific journals Kidney International and Transplantation.
Women with a donor kidney function in daily life with one working kidney. The researchers mapped the effects of pregnancy for this group. Pregnancy causes many major changes in a mother's body. For example, the development of the placenta is accompanied by the production of more blood that must be pumped around and purified by the donor kidney. In transplanted women, the donor kidney must work 40 per cent harder during pregnancy. More is demanded of the kidney, making it complex pregnancies. The functioning of the kidney and the vascular bed also affects the construction of the placenta. Problems with the disposition of the placenta can contribute to pregnancy complications, such as high blood pressure, preterm birth, or preeclampsia.
"We listed all the Dutch data and we see that the outcomes of those pregnancies are generally good and they match international data," says Margriet Gosselink, physician-researcher at UMC Utrecht. "We base this on data from 288 pregnancies of 199 transplanted women under the age of 45, collected in the PARTOUT network. This is a partnership between all teaching hospitals in the Netherlands.
Every year, at least 12 to 14 women with a donor kidney in the Netherlands become pregnant. Women with a donor kidney are at higher risk of high blood pressure, preeclampsia, (temporary) renal function deterioration and foetal growth retardation. They should therefore be supervised in a university hospital during pregnancy. There, a gynaecologist and a nephrologist can intervene at early signs, if necessary.
Desire to have children
These pregnancies are sometimes preceded by a long period where the risks of health complications are weighed against the desire to have children. It is important for kidney patients to discuss their desire to have children early with their nephrologist and gynaecologist with expertise in this area. "Even if that desire for children is not acute, but if you want to start having children in five years' time, for example. This is also important information for the timing of the transplant. Even after transplantation, it is important to discuss any desire for children again with your practitioners, says Marleen van Buren, who recently obtained her PhD on kidney transplantation and pregnancy at Erasmus MC. We advise against pregnancy in the first year after transplantation, but after that there are possibilities. Although it then sometimes takes several months to adjust the medication."
Possibilities
Patients are regularly referred to a university hospital for a counselling session about a possible pregnancy. "In such a counselling interview, heredity is also discussed," says Margriet. "And additional genetic testing may be done, especially when the cause of the kidney failure is not known." This can have consequences for offspring and the way of getting pregnant. Nowadays, for some hereditary kidney diseases, in-vitro fertilisation (IVF) is possible in which embryos are examined for a serious genetic disorder to reduce the chances of an affected child.
Some patients expect a priori that their desire for children will remain unfulfilled, while this need not be the case, according to Marleen: "The effect of pregnancy on kidney function is minimal. Having a desire to have children is logical and understandable. And often it can be. It can help to talk about it with your partner and your practitioner and then weigh up the risks of a possible pregnancy together. So don't just keep walking around with it."
Follow-up research
Physician-researcher Margriet Gosselink focuses her follow-up research on the impact of pregnancy on women with hereditary kidney diseases. First of all, these will be the kidney diseases 'Alport syndrome' and 'Cystic kidneys' or ADPKD. Anyone wishing to participate in this study can send an e-mail to: pregeneph@umcutrecht.nl