Back
New metabolic disease discovered

New metabolic disease discovered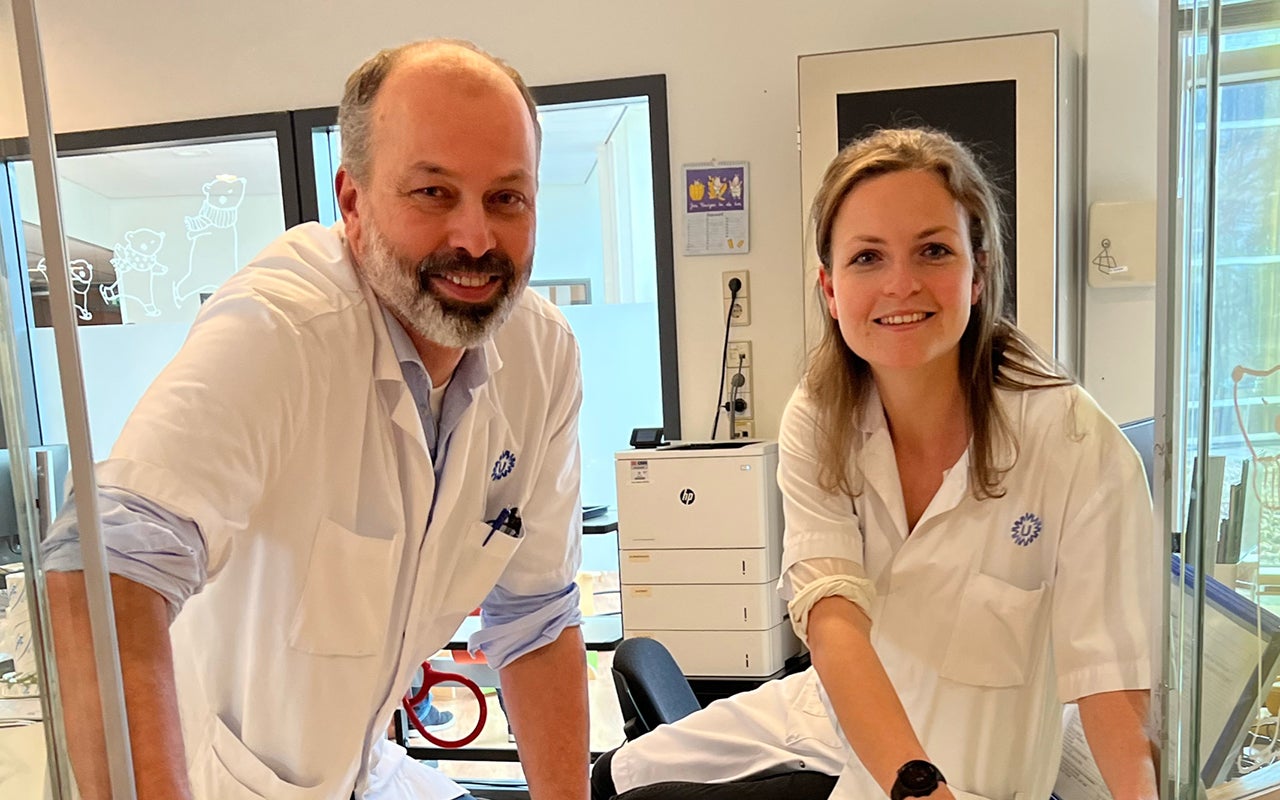 A new congenital disease has been discovered. Researchers Irena Muffels and Peter van Hasselt from UMC Utrecht published the results in the scientific journal American Journal of Human Genetics.
Lees het artikel in het Nederlands >
It started with a fascinating patient in Intensive Care (ICU) and led to a search in which more than 20 doctors and researchers from four countries worked closely together until the puzzle was solved eight years later at UMC Utrecht. A search in which a diagnosis could be made as well as a new disease mechanism was found.
Genetic defect
"The patient ended up in the ICU after an epileptic seizure. She had pneumonia and during this admission she developed severe brain damage. This neurological deterioration was not common," Irena says. Doctors saw that this patient's brain and other organs could not cope well with the physical stress caused by the ICU admission and infections. This prompted Peter van Hasselt and Irena Muffels to carry out biochemical research, in collaboration with paediatrician metabolic diseases Sabine Fuchs and professor of immunology Femke van Wijk. "We examined skin cells and blood cells," says Irena. "Together with clinical genetics, including Maarten Massink, we found out that the genetic defect in the 'control gene' NAE1 was responsible for the disease."
The function of the 'regulation gene' NAE1 has not been known for very long. For several years now, we have known that the NAE1 gene is at the basis of regulating all kinds of important processes, in all cells of our body. A properly functioning NAE1 gene helps normal development, protects us from physical stress, and inhibits the onset of all kinds of diseases, such as cancer, Alzheimer's, and Parkinson's disease. We found that the little patient severely deteriorated during infections because she could not protect her body from physical stress due to a non-functioning NAE1 gene.
To find out whether this syndrome is more common worldwide, researchers are collaborating internationally. "There is a matching system for geneticists. There we entered the gene we are researching. So, we were linked to a colleague in Groningen and two colleagues in America who were also treating patients in their hospital with genetic defects in the NAE1 gene," says Irena. "There turned out to be four patients who all ended up in ICU at a young age with an infection, with similar loss of function and an abnormality in the same gene, NAE1."
At the end of the process, the researchers gathered additional evidence so that there was no doubt, that the NAE1 gene was responsible for the disease. An observation by paediatrician Michiel Houben helped with this. "He saw that there were very unusual abnormalities in the hip bone of the little patient from the WKZ. When we later zoomed in on the hip photos of all the other patients from the matching programme, we saw this too. Radiologist Maarten Lequin helped us quantify this clearly''. This observation will allow faster recognition of the disease in the future.
Future generation
The UMC Utrecht researchers shared their findings in the American Journal of Human Genetics. Accurately describing the disease does not directly lead to treatment for these patients, but it does help to identify a next generation with this defective 'control gene' earlier. "This knowledge may lead doctors to take abnormalities in the NAE1 gene seriously sooner. When we know that a patient has this inherited condition, decisions can be made to treat an infection more quickly, for example. There are certain anti-inflammatory drugs that we know you have to be careful with in these patients', says Irena. 'Getting a diagnosis is also important for parents. Knowing the cause of an illness gives them more control over the situation, even if no treatment is available yet.'