Back
Feb 1: COVID-19 vaccination study in Down syndrome started

Feb 1: COVID-19 vaccination study in Down syndrome started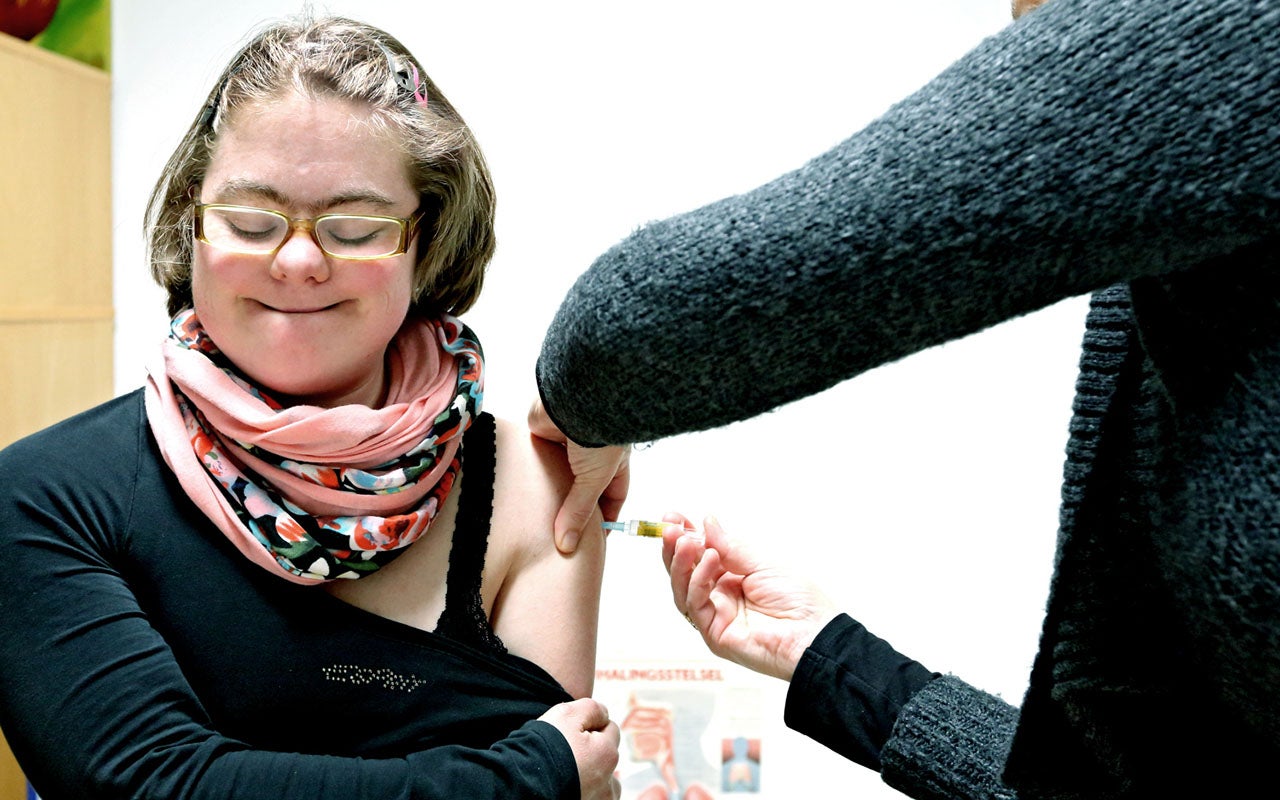 After the first vaccinations for care workers, the vaccination of residents of nursing homes and institutions for the disabled has now also started. On a visit to such an institution, Minister Hugo de Jonge spontaneously received a big hug from grateful resident Fred, a man with Down syndrome. "That hug shows exactly why it is important to vaccinate this group quickly," says pediatric infectiologist Louis Bont at UMC Utrecht.
"People with Down syndrome are more likely to get COVID-19 and often have more severe disease. But keeping distance is almost impossible for this group,"says Prof. Louis Bont, who is a pediatric infectiologist specialized in respiratory infections in children. Now Louis is investigating to what extent COVID-19 vaccines, as used in the current vaccination campaign, offer sufficient protection for people with Down syndrome. For this large study, which started this week, UMC Utrecht has received a substantial grant from the Ministry of Health, Welfare and Sport.
Vulnerable group
That children with Down syndrome have an increased risk of respiratory infections was one of the conclusions from a previous study on respiratory viruses in people with Down syndrome, which Louis Bont led in 2010. It has now also become clear that people with Down syndrome have an increased risk of dying from COVID-19. "This may be because they are not getting rid of the virus properly, but could also be due to an excessive immune response to the virus," says Louis. "Because of this increased vulnerability, people with Down syndrome desperately need the COVID-19 vaccine, but there are reasons to doubt the success of such a vaccination."
Trial at UMC Utrecht
Previous research has shown that vaccines often work less well in people with Down syndrome, but people with Down syndrome have not yet taken part in COVID-19 efficacy studies. To investigate this, a large vaccination study is now starting among adults with Down syndrome. The UMC Utrecht coordinates this study, which is carried out in collaboration with the Down Syndrome Foundation and many researchers in the Netherlands. Louis: "When I received the phone call from the Ministry, I was immediately enthusiastic. Here we have the scientific expertise to do such a trial. Of course I am proud of the fact that we can organize this trial from our hospital. "
Not eligible
Still, Louis is critical of the current vaccination strategy. At the moment, only people in institutions for disabled care are being vaccinated. That means that a large group of people with Down syndrome are now not eligible for vaccination, even though they are at great risk. "Think of people in the age group of 20 to 50 years, who live independently to a lesser or greater extent or who live at home with their parents, for example. I also want to make a case for these people with Down syndrome, because it is very important that they are also vaccinated quickly," says Louis. "And for all people with Down syndrome it is very good that with this study we can confirm if the vaccine protects them sufficiently. If that is not the case, we can quickly take appropriate measures, such as an extra vaccination."