Back
New cancer research with MR-Linac and ultrasound

New cancer research with MR-Linac and ultrasound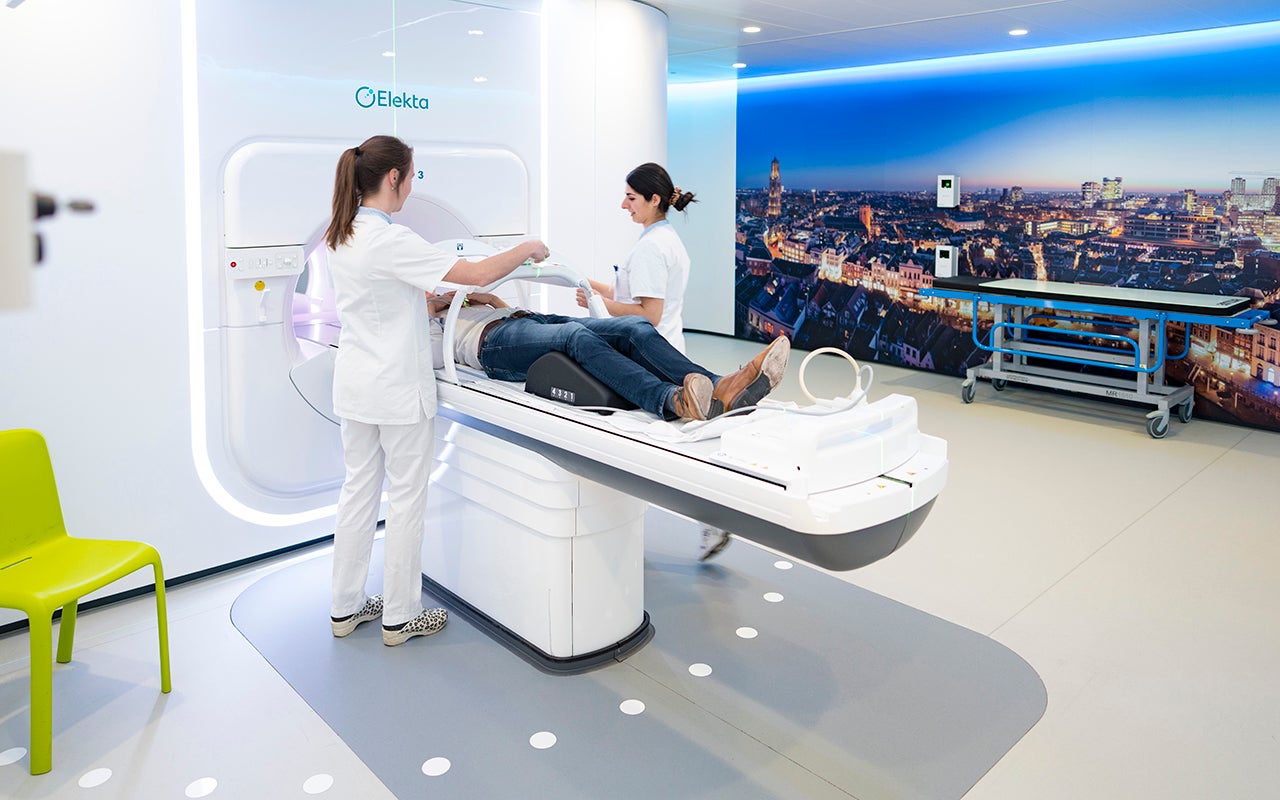 Researcher Lois Daamen studies how MRI-guided radiotherapy can be used against locally advanced pancreatic cancer. And associate professor Roel Deckers employs ultrasound to help fight head and neck cancers.
Pancreatic tumour in sight
Lois has received a KWF Dutch Cancer Society grant of almost one million euros. She uses MRI-guided radiotherapy for her research. This image-guided, minimally invasive therapy can, for instance, be administered with the MR-Linac. This machine was invented by UMC Utrecht and has been used in daily clinical practice since 2018. It uses MRI images to adapt the radiation field to the precise location of the tumour and the surrounding healthy tissue and organs. As a result, tumours can be attacked with higher precision, even when they are moving a lot, due to breathing or peristaltic movements. This not only makes the radiotherapy more effective but also results in a less demanding treatment for the patients. The high precision of the MRI-guided therapy ensures that surrounding healthy tissue is less affected. And the machine makes it safer to administer a higher daily or total dose of radiation. Result: patients don't have to visit hospital as often as before. MR-guided therapy has been applauded worldwide and is now being used in many more healthcare centres, both in the Netherlands and abroad, to treat different types of cancer.
Surgery or chemo
Pancreatic cancer is one of the most fatal types of cancer: only 4 percent of patients will have survived after 10 years. Unfortunately, the illness is often detected rather late: 40 percent of patients have already developed locally advanced pancreatic cancer (LAPC: locally advanced pancreatic cancer) when they are being diagnosed. This means that their tumours have grown into the surrounding blood vessels. Then, patients will not be operated upon but will first receive chemotherapy. This way, the tumour will hopefully get smaller, preventing metastases or making surgery a possibility after all. Unfortunately, after chemotherapy, LAPC-patients will, on average, still only survive for 15 months.
MRI-guided radiotherapy is added
With traditional radiotherapy, it was hard to treat pancreatic cancer: the tumours were hard to visualise, and the upper stomach tissue tends to move a lot. Fortunately, MRI-guided therapy has solved this problem. Lois will now try to find out how LAPC patients' chances of survival and life quality will improve when MRI-guided radiotherapy is added to chemotherapy. She does so within the LAPSTAR trial, for which she cooperates with a group of specialised radiotherapists from UMC Utrecht (Martijn Intven), Amsterdam UMC (Anna Bruynzeel), Radboud UMC (Hanne Heerkens) and Catharina Hospital (Heike Peulen), the Dutch Pancreatic Cancer Group and the Centre for Human Drug Research. Hopefully, the higher radiation dose combined with chemotherapy will slow down tumour growth.
Major impact
The LAPSTAR trial results may have a major impact on the worldwide treatment of locally advanced pancreas cancer. And perhaps also on how other locally advanced cancer types will be treated. Lois: "With this research, we hope to prove that MRI-guided radiotherapy can indeed help LAPC-patients to survive and/or have a better quality of life, improving the daily healthcare for this group of patients all over the world."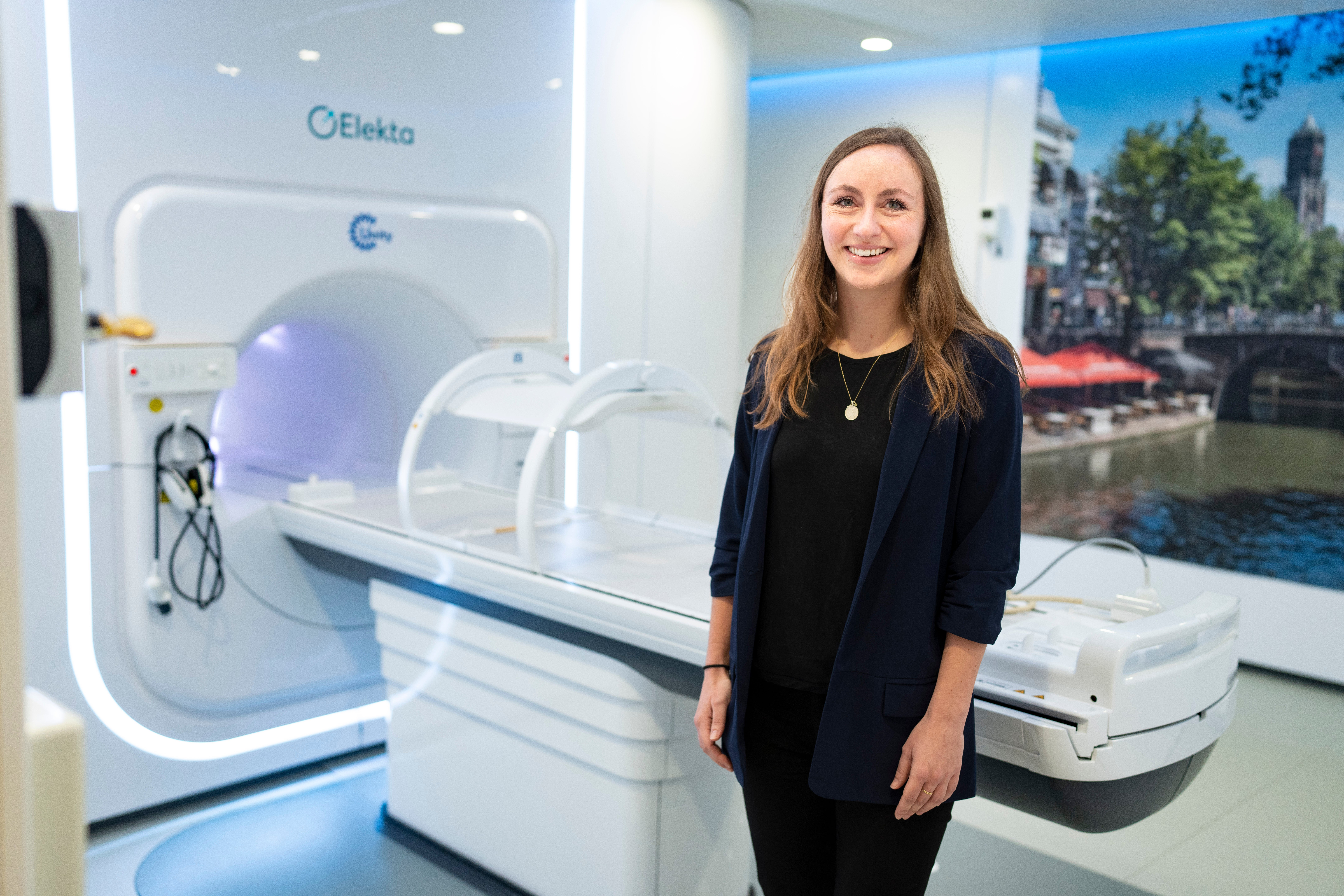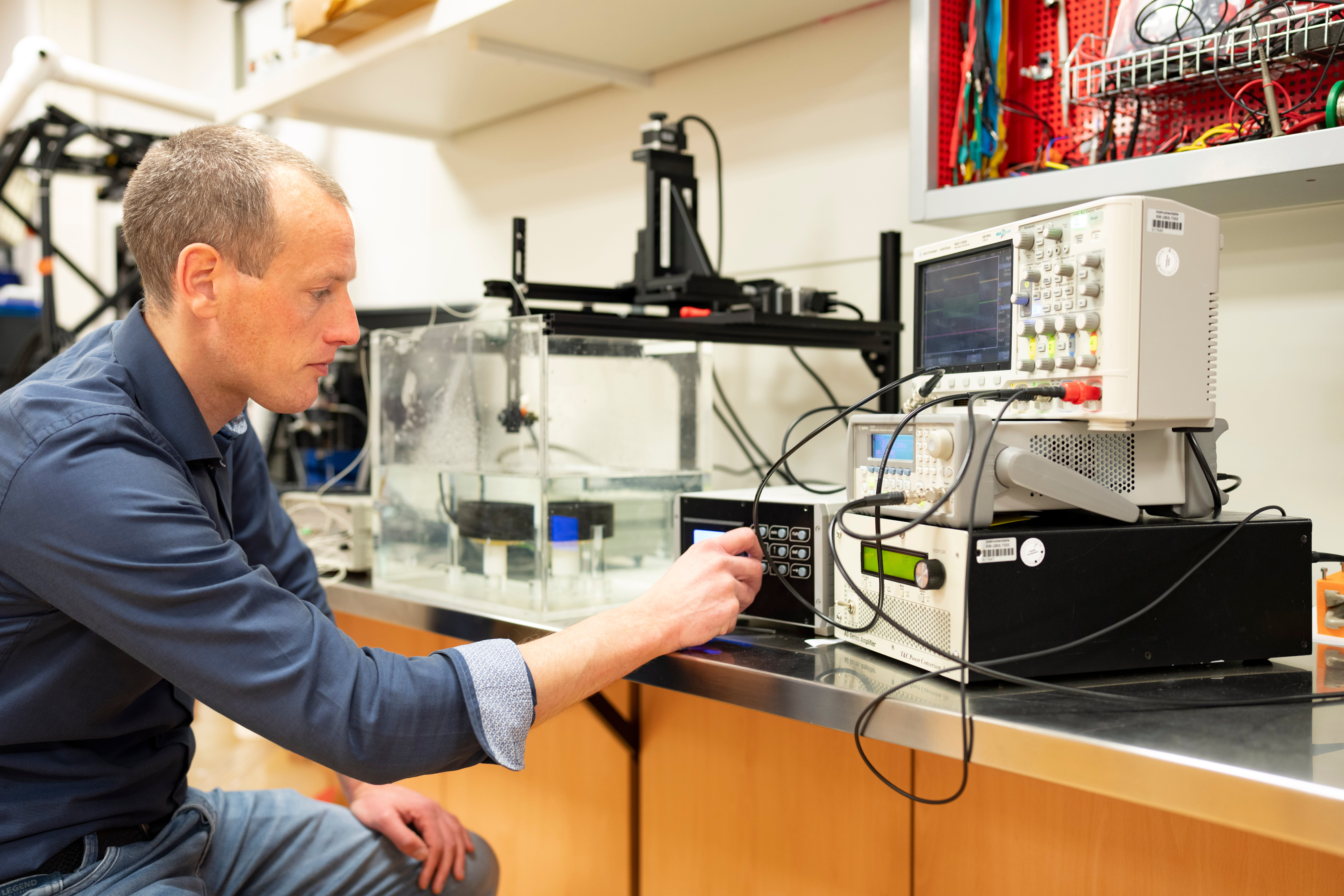 Lois Daamen en Roel Deckers
Ultrasound against head and neck cancers
Just like Lois, Roel is dedicated to researching an image-guided, minimally invasive cancer treatment. He makes use of ultrasound to help fight head and neck cancers. KWF has granted him almost half a million euros for his research.
Every year, approximately 3,000 Dutch people are diagnosed with a type of head and neck cancer. Unfortunately, with 60 percent of them, the disease has already advanced locally. They will have to undergo intense treatment, often consisting of several components, such as surgery, radiotherapy and/or chemotherapy.
Improve blood flow
Despite this extended treatment, their prognosis is rather gloom: only 15 to 60 percent of the patients will still be alive after 5 years, and it is highly possible (up to 40 percent) that the disease will return locally. Chemotherapy and radiation are most effective in well circulated, oxygenated tumours. Then, medicines will penetrate the tumour better, and oxygen enhances the effect of radiation. Unfortunately, tumour blood vessels are often fragile and hard to control. Result: the blood flow is obstructed, reducing the effect of the treatments. Roel will now try to solve this problem by means of ultrasound.
Vibrating microbubbles
Ultrasound is a very familiar technology in healthcare. It is, for instance, used with pregnant women to make images of the foetus with high-frequency sound waves, which cannot be heard by humans. Roel, however, is applying ultrasound in a very different, innovative way. He's injecting gas-filled microbubbles in a patient's bloodstream and makes them vibrate with ultrasound in tumour blood vessels. This way, he hopes to improve the blood flow in the tumour, increasing the efficacy of chemo- and radiotherapy.
More to come
Roel's research is specifically aimed at head and neck cancers, but the results may also be applied to other tumour types and perhaps even other diseases. "Increasing the efficacy of medicines, that's what I am aiming for. Now, it's up to me to show that ultrasound may play a key role in this", Roel says.
Interested in all the projects that have now received KWF grants (Call 2023-1)? Just take a look at this list.