Back
Center for Molecular Medicine
Center for Molecular Medicine
The Center for Molecular Medicine (CMM) is a research center at the UMC Utrecht that focuses on understanding the molecular basis of disease. More than 180 researchers perform multidisciplinary fundamental and translational research in relation to various diseases, including cancer and genetic disorders.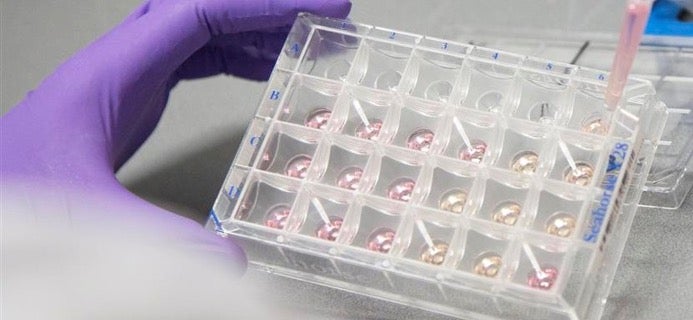 Research focus
uitklapper, klik om te openen
Within CMM, we strive to perform cutting-edge biomedical research and discover the molecular mechanisms of human disease to develop molecular interventions. We study the changes in molecules, like genes, transcripts, proteins and metabolites that underlie pathological conditions at the cellular, tissue and organismal level.
The highly collaborative nature of our investigators and the use of state-of-the-art technologies enables us to study disease-causing mechanisms at different biological levels, from single molecules to organisms. We are committed to clinical translation and academic entrepreneurship, so we can increase the impact of fundamental science discoveries to innovate diagnosis and the treatment of diseases.
CMM is part of the Division of Laboratories, Pharmacy and Biomedical Genetics (dLAB).
More about CMM's research.
Our ambitions
uitklapper, klik om te openen
Conduct international forefront fundamental research on the molecular mechanisms involved in cancer and other diseases.
Serve as an expertise center and advanced technology and facility hub to support academic and medical professionals inside UMCU and beyond.
Identify opportunities for clinical application of our discoveries and initiate and participate in translational research to effectuate their application.
Educate the next generation of biomedical professionals at the level of Bachelor, Master, PhD and Principal Investigators.
Research groups
uitklapper, klik om te openen
Have a look at our research groups by research topic:
Mitosis
Stem cell maintenance
Mechanobiology
Cell invasion
Chromatin dynamics
Senescence
Phase separation
Oxidative stress
Metabolic diseases
Molecular and tissue immunology
Membrane trafficking and endo-lysosomal biology
Genomics and bioinformatics
Education in molecular medicine
uitklapper, klik om te openen
CMM takes part in training the next generation of biomedical scientists and medical doctors, by offering stimulating and excellent education. All our employees contribute to our education, from PhD to PI level. Our dedicated teaching staff ensures a strong basis of teachers and education coordinators.
We provide education in the medical and biomedical science curricula at the level of BSc, MSc, PhD and Tenure track Principal Investigators. Our educational activities also extend to postdoctoral training, extracurricular courses and many memberships of committees and project groups involved in the development of new educational methods.
More information about education at CMM.
Academic entrepreneurship
uitklapper, klik om te openen
Our investigators strive for clinical translation and academic entrepreneurship to increase the impact of their fundamental science discoveries. Spin-off companies within CMM:
CLEARA Biotech
Mission: Targeting cellular senescence to extend human health span at old age and to counteract therapy resistance in late stage cancer.
Cyclomics
Mission: Transform cancer care by enabling faster and more reliable diagnoses, particularly in the context of cancer recurrence thanks to its proprietary circulating tumor DNA detection technology.
Facilities
uitklapper, klik om te openen
The CMM houses experts and state-of-the-art facilities for a broad range of techniques, including:
Read more about CMM's facilities.
Contact us
uitklapper, klik om te openen
The Center for Molecular Medicine is located in the Stratenum building of the UMC Utrecht.
Address: Universiteitsweg 100, 3584 CG Utrecht
Contact information
Thank you for your review!
Has this information helped you?