Back
U-TRIAL, we connect
U-TRIAL, we connect

Fostering an ecosystem for innovation in
clinical research and trial execution
U-TRIAL (Utrecht TRial Innovation ALliance) is committed to strengthening the clinical trial ecosystem within UMC Utrecht. This underlines the great importance to bring innovations more quickly, through innovative high-level clinical trials. U-TRIAL is UMC Utrecht's knowledge and expertise center for both established Principal Investigators (PIs) and young research talent (internally) and for external stakeholders such as Contract Research Organizations (CROs), pharmaceutical companies, medical device companies and diagnostics companies.
Vision and strategy
uitklapper, klik om te openen
U-TRIAL makes a valuable contribution by bringing healthcare innovations to patients and society faster.
U-TRIAL is committed to the mission of UMC Utrecht: together we strive to improve people's health and create tomorrow's healthcare. By maximizing clinical research strength, U-TRIAL enhances UMC Utrecht's value as a research partner for commercial companies and other research institutes. After all, only together can we shape the care of tomorrow.
On the one hand, we strengthen UMC Utrecht's clinical trial ecosystem by focusing on making the value we have as a hospital very explicit, removing barriers for our researchers to co-create with the relevant stakeholders. To this end, we actively set up partnerships with strong external partners.
On the other hand, we design our internal organization in such a way that clinical research becomes enjoyable again. In doing so, U-TRIAL puts the PI and young research talent at the center by offering service, expertise, and support in clinical research to ensure smooth processes.
Organization
uitklapper, klik om te openen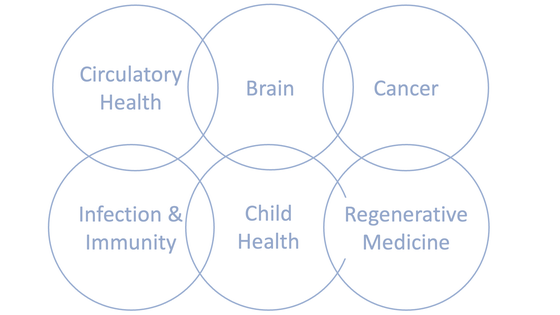 With its supportive infrastructure focused on PIs across all of UMC Utrecht's strategic research programs, UTRIAL is the shortest route towards successful clinical research within UMC Utrecht. Each strategic research program is represented within U-TRIAL via a Trial & Innovation Lead (TIL). All TILs have a strong national and international network. In addition, they have broad expertise in conducting clinical trials. This combination makes them the ideal point of contact for established PIs and young research talent within UMC Utrecht, as well as for commercial partners and other research institutes who wish to conduct clinical trials at UMC Utrecht. This way, we build a bridge between the internal subject matter experts and the external partners.
U-TRIAL is organizationally embedded within the Julius Centre for Health Sciences and Primary Care, a division of UMC Utrecht with broad expertise in clinical research methodology, biostatistics, clinical epidemiology, ethics and evaluation of health technology.
Are you interested in what U-TRIAL can do for you? Please do not hesitate to contact us via u-trial@umcutrecht.nl.​
Roles and tasks
uitklapper, klik om te openen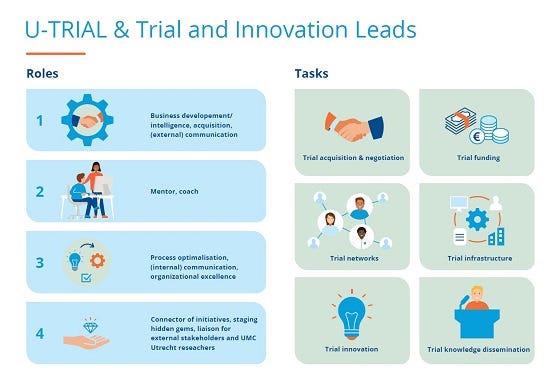 Business development
uitklapper, klik om te openen
U-TRIAL facilitates a close collaboration between external partners, such as commercial companies and public institutions, and the medical division and strategic research programs of UMC Utrecht. For external stakeholders who would like to run a clinical trial at UMC Utrecht, U-TRIAL is the organization that connects them to the right person. Furthermore, U-TRIAL connects the UMC Utrecht PIs to external partners. Accordingly, U-TRIAL ensures a two-way street for connection with external stakeholders.
Partnerships
uitklapper, klik om te openen
U-TRIAL is driving strategic partnerships. Notably, a Phase 1 unit was established in 2022, which is a collaboration between UMC Utrecht and the South-African TASK Research International B.V. Phase 1 research focuses on the first stage of clinical research, where (healthy) participants get a treatment and are very closely monitored, after which researchers investigate whether there are acute side effects. It is a crucial step in the development of new treatments. This partnership is the first of its kind in the Netherlands: never before were all research themes of a hospital combined in one organization.
Other examples include the recently established partnerships with two global Clinical Trial Organizations (CRO's). Through these initiatives, U-TRIAL will bring more studies to UMC Utrecht. Moreover, this will provide more insight into how we perform as a research institute compared to other research locations in the Netherlands. These partnerships enhance and improve the clinical trial ecosystem of UMC Utrecht.
Mentor/Coach
uitklapper, klik om te openen
Through the expertise of the Trial & Innovation Leads (TILs), we help PIs and young research talent establish research networks, design innovative trials, and connect to external stakeholders. Besides this, we are always looking for innovative opportunities for optimal cross-pollination between researchers.
Thank you for your review!
Has this information helped you?